Services
Powered by network, competence & collaboration
We take a network-based approach, supplementing our in-house expertise with specialists and extra capacity from our business partners. That means we are extremely flexible and able to scale up instantly on capacity and expertise.
People & projects
At Advantis, we organise projects, people and skills to meet challenges. When we organise projects, it is important to find the right people with the right skills for the task. We find them at Advantis and in our network of business partners. Collaboration is flexible, so we can work together on your premises or here on ours, or perhaps a combination of both.
---


Insight
We set up business cases and requirement specifications based on insight into the value chain, customer needs, specific demands and identifying pains and gains.

Concept
We can set up concepts in all current CAD systems, with hand drawings and powerful graphical visualisations.

Optimisation
Optimisation is based on considerations of product function, processes and cost reduction. We define fundamentals and goals, and carefully analyse the potentials in your business case.

Visualising
Strong visualisation on graphic story boards or in virtual reality to provide a basis for decision-making and identifying requirements.

Project Management
Our project management is based on certification and many years of experience. It can either be a natural element in product development or a capacity in your business.

Prototyping
Early prototypes add great value to projects, so we work with 3D printing, visualising and through storyboards and virtual reality.

Production
Through our network of business partners, we have the necessary capacity to produce, test and validate turnkey solutions.

CE labelling
We can prepare a complete technical dossier with risk assessment and risk management in connection with certification.

Product development
Concepts and insight are transformed into unique products and solutions based on the available value chain. We can either use your project model or ours as the focal point for development.

System integration
Our advisory service is based on broad insight and proactive interest in specialist fields, and together we integrate the system into a turnkey solution.

Validation
We operate with validation at all phases of a project – from FE calculations and Site Acceptance Tests to testing early prototypes (virtual reality, graphic storyboards, 3D printing etc.).
Our approach, our flexibility and the way we tackle projects are founded on placing our clients right at the centre. Whether we solve a problem in-house or on-site with our clients, our approach and methods focus on structuring, implementing and meeting challenges.
We like agile methods for projects, and know that requirement specifications, speed and predictability are often challenged. We work with agile project methods, so we can deliver faster, more flexibly and reliably. A reiterative project process places valuable solutions and our clients at the centre.
---
Advantis 360° Project Framework
---
Insight
With insight we gather knowledge needed for the solution, lay plans and decide on a clear direction.
Concept
The concept is developed from our insight, and tests and validation provide feedback on the solution.
Development
The solution is developed from the concept and insight. With focus on specific needs, a total solution is delivered, ready for production and implementation.
Production & Validation
With out network and business partners, we realise the solution and lift it through development to a validated total solution ready for implementation.
Implementation
The solution is installed, tested and handed over. Firmly anchored in insight, users are enabled to put the solution to use.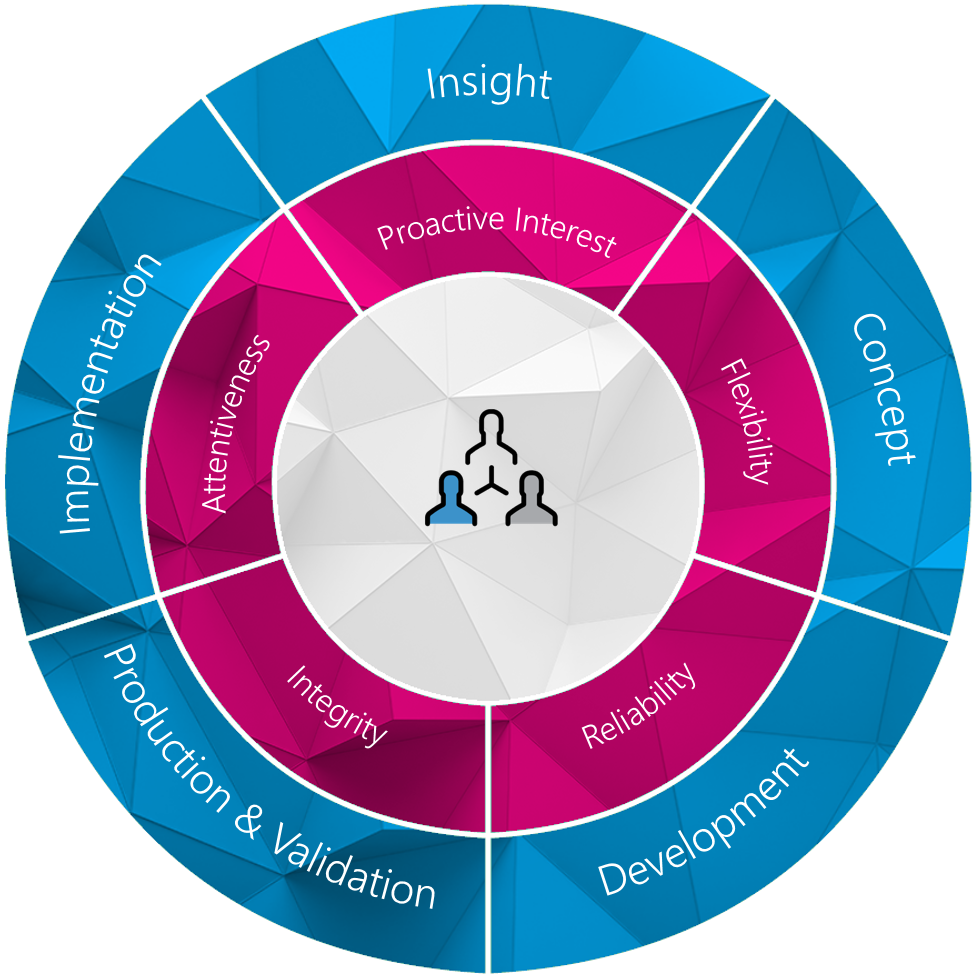 WHAT CLIENTS SAY
"We chose Advantis because they have a clear insight into the business, because of their agility, and the way they always deliver on projects. We have worked with Advantis several times in connection with designing nacelles and spinner covers.
They react fast and flexibly to our enquiries, and their insight enables them to come up with creative and innovative solutions in a short time. Added to that, we are confident about working together, and communications are effective."
Bach Composite Industry A/S, April 2017
CTO: Morten Storm Pipper